Logistics expert Iina Vuorio: "A hectic everyday life requires the right attitude and diligence"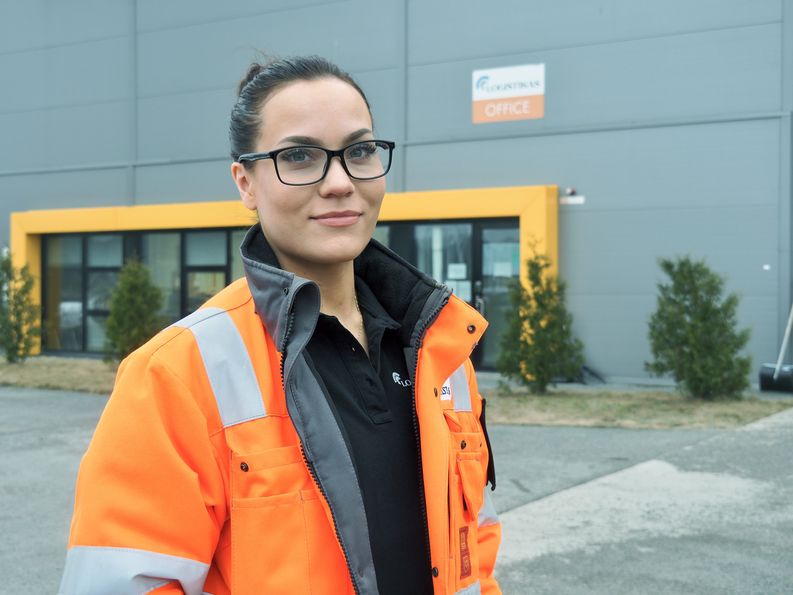 Iina Vuorio works as the logistics coordinator at the Logistics Group's Lakari logistics center in Rauma. She knows that good things happen with a hard and hard attitude.
"In this job, attitude is really important. Even the most challenging tasks need to be taken care of. Succeeding in this job requires efficiency and a willingness to do different things. For example, I leave the office to drive the forklift if necessary", Vuorio smiles.
She has worked for Logistikas since November 2019. Prior to that, Vuorio served in the military in Säkylä, after which he worked for the Finnish Defense Forces for six months as a contract soldier and as a driving organizer in Uusikaupunki for a few months.
"I started working in Lakari as a logistics assistant and became a logistics coordinator at the turn of February-March 2022. My predecessor moved to our unit in Pori, and apparently I have shown my skills when I was offered this kind of great opportunity.
"As a coordinator, my job is very similar to that of an assistant, but now I have more responsibility. For example, I enter orders in the field and close orders once they have been processed. In addition, I make sure that the work done goes to billing. My job also includes keeping stock records. And these are just the tip of the iceberg in this job description."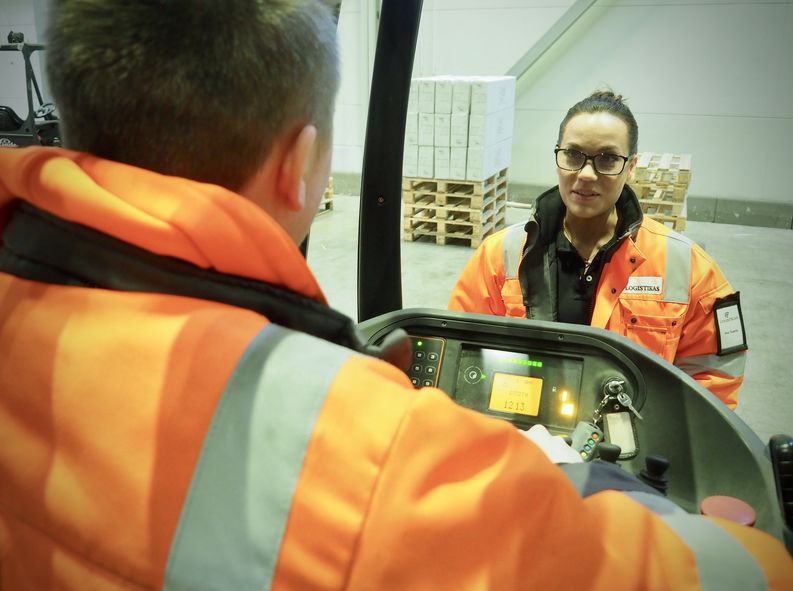 Everyone can be themselves
The ability to work independently and make quick decisions is key in when the job requires diverse skills and every day life includes constant change.
"The logistics industry is very fast and I like the fact that it's hectic. In this work, things change on a fast schedule, and nothing is predictable. I am in my element when there is a lot of work underway", Vuorio says.
At Lakari, working days are also enlivened by the humor created by a good team spirit. Vuorio points out that the spirit of doing things together carries the entire organization.
"In our group, everyone gets along with each other and everyone can be exactly what they are. We can joke on each other in a good spirit. The atmosphere is relaxed in the right way, but the work is always handled as well as possible."
"Here, employees are given the opportunity to develop their own skills and advance in their careers if there is a desire and the conditions to do so. I myself am a good example of this because I came here at the beginning of my career and am now working as a logistics coordinator."
Vuorio emphasizes that work is the best teacher. The process entities have become even brighter as she has been able to do a variety of things.
"Through experience, I outline where the supply chain starts, where it ends and what happens in between. I consider it very important to know the different functions and work steps."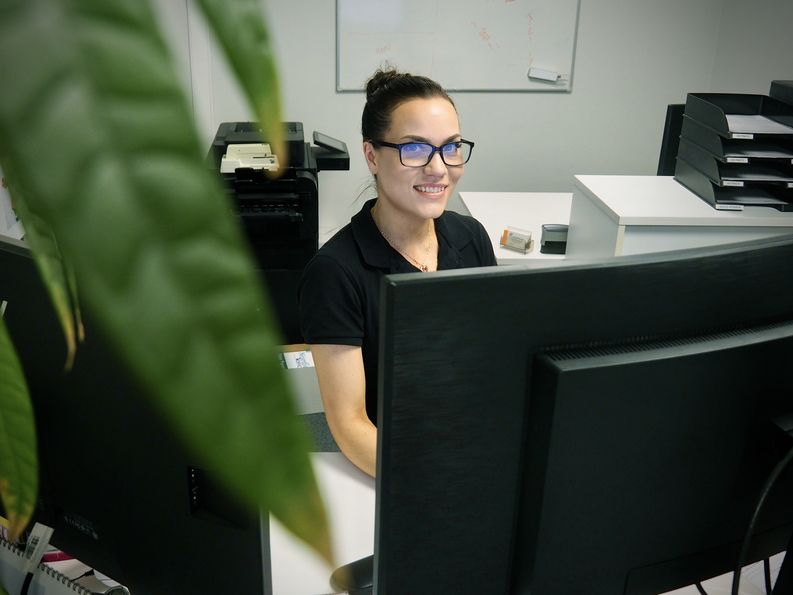 The desire to defend her homeland
Vuorio is from Hamina, but has lived most of his life in the Turku region. She moved to Rauma four years ago after the army.
"I studied for a bachelor's degree in logistics at Salo and after graduation I worked in logistics. After the army, it felt natural to move to Rauma when a good job was found here", Vuorio says.
In Finland, the conscription is performed by an average of about a thousand women each year. For Vuorio, army was a clear choice. She joined the Säkylä 2nd Jaeger Company in July 2017 and returned home a year later as a sergeant.
"I was driven into the army by the will to defend my homecountry - and that is the reason why everyone should go there. It is our job to defend our country if such a situation arises. I hope not, but I don't want to be among the first to flee the country, but to do my part."
"After serving in the military, I continued for six months as a contract soldier. I thought about my career in the Finnish Defense Forces for a while, but decided to move on to the reserve. And there has been no need to regret that decision, because I enjoy this job so much."
There were a lot of good things in the army that are also useful in working life.
"I learned to lead a larger group from leadership training, which is also highlighted in my current job, where I have to hold many threads in my hands. Systematicity, punctuality, order, and efficiency are also things you learn in the military. "
Hard work will continue even after the work day.
"In my spare time I go to the gym, play ice hockey and go horse riding. I have to have some activity all the time, so in addition to this job, I direct riding lessons and do catering gigs. So there is no boring moment, and there will not be", Vuorio laughs.