Logistikas 25 years - Ari Salmi: A young adult with healthy values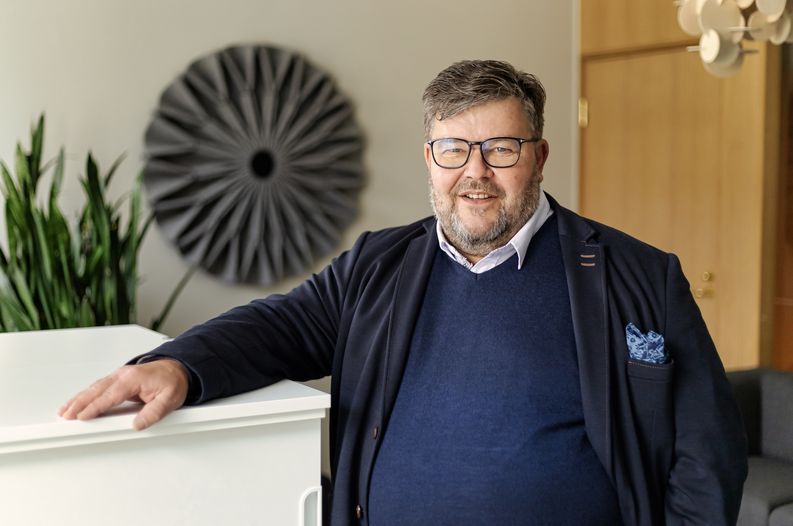 Today, the 25-year-old Logistikas is starting to be an exception in its own industry, as there are not many Finnish-owned companies of that size operating in the same segment. As a company, Logistikas is a hard rock where nothing is a bluff. The values ​​are based on honesty and openness.
These values ​​have been built from day one. The story of Logistikas began in October 1997, when we founded Contu-Trans Ltd together with Jukka Kontula.
Before this, I worked in Kekkilä as a logistics manager. We delivered professional peat products to 39 different countries, of which approximately 450 truckloads of peat products were exported to the most important export country in terms of volume, Spain. Car transports to Southern Europe were slow and expensive, so I wanted to create a product for Kekkilä that would allow us to take advantage of container transport from the port of Rauma.
Despite extensive background work, I could not find an existing forwarding company that could build such a product for us. I started to think about it myself, and based on that thought process, Contu-Trans was born, which later operated under the name CT-Logistics and which today is known as Logistikas Group.
"There are a lot of rewarding experiences on this journey, as well as educational moments."
The first office of Logistikas was found on Karjalankatu, Rauma. Kekkilä's products going to Spain were manufactured in Peräseinäjoki, which logistically had a good rail connection to Rauma. In order to unload the products into containers directly from the tracks, we rented the covered loading bridge of VR's old goods station. These premises are still rented by Logistikas.
In 1998, ContuTrans bought the business of Materpoint Ltd, which gave us a transport fleet of ten cars and professional drivers who operated them. In addition, we take care of the route and delivery traffic of the Kiitolinja in Rauma. Later, we gave up the transport business and decided to focus purely on the logistics of storage and goods handling. From there, the entity that Logistikas has grown into over the course of 25 years began to be built.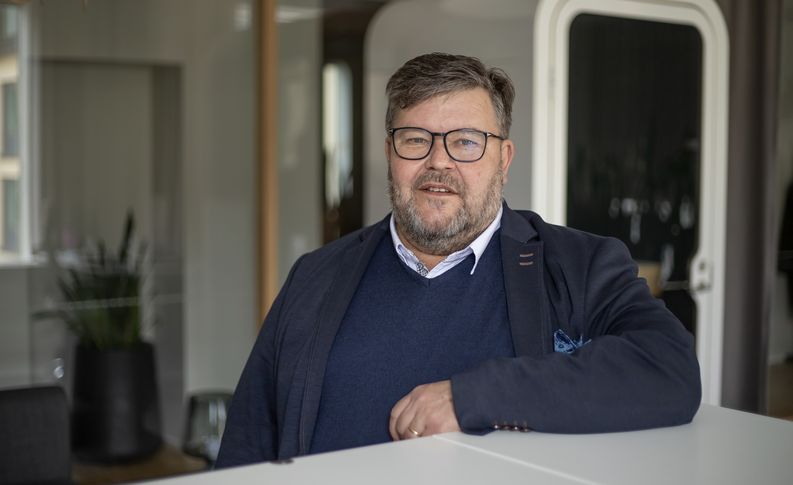 In the beginning, Jukka and I started from practically from nothing, the initial capital was the loan financing of 60,000 marks I received from the bank. Over the years, when there were assets left over from the operation, those assets were directed to the development of the company and operations as a whole.
I have often used a snowball as a metaphor. A certain amount of snow does not stick to the ball, but when you keep spinning it, its surface area increases so that a little more snow always sticks in the following rounds.It is clear that the snowball does not always roll in the right direction, but it is important to know how to correct its trajectory at the right moment. When I now look at the path left behind Logistics, it is not straight, but the direction is clearly visible. That journey includes many rewarding experiences and educational moments.
"Logistikas has grown into a fine 25-year-old young adult with healthy habits thoughts and values."
25 years in business life requires many things as a background, the most important of which I would highlight is the professionalism and attitude of the personnel. From the beginning, Logistikas has had personnel committed to a common operating culture. We have also taken care of and trained our personnel, and created career paths.
Several important people have been involved in building Logistikas with their own contribution. Among them, I would like to single out Toni Brigatti and Olli-Pekka Reunanen, who have played significant roles in the company's growth in their respective positions. Over the years, there have been several prominent people on the board, whose wide-ranging knowledge has taken the company forward step by step in a planned manner. At different stages of growth and development, different guidance is always needed, and we have found the right people for these moments.
I feel that my family is one of the absolute strengths of my entrepreneurship. They are used to the so-called normal middle-class life and have never demanded a certain standard of living. This has guaranteed me the peace of being an entrepreneur for reasons other than financial, and through that I have been able to develop my businesses in a thoughtful and planned manner.
Personally, one significant milestone was the acquisition in 2020, where the private equity company Sievi Capital bought the majority of shares in Logistikas. The pain of giving up was eased by the fact that I had already had minority shareholders as partners for some time, as well as other companies I had founded. So there is plenty to do in the future as well.
"I've been able to be an entrepreneur for reasons other than financial, and that's how I've been able to to develop my companies in a thoughtful and planned manner."
The 25-year-old Logistikas is a company to be taken seriously, with a high-quality customer base that appreciates the right know-how. The company has very good opportunities to continue on the growth path both organically and through acquisitions, and take on increasingly demanding entities to manage without increasing risks.
When I look to the future, knowing the strategy of Logistikas, I see an opportunity for regional growth in logistically important locations. This further improves competitiveness and creates a good framework for significantly increasing turnover.
I have lived with Logistikas since its first steps and have seen how it has grown into a wonderful 25-year-old young adult with healthy thoughts and values. It is good to continue moving forward with them.
Ari Salmi
founder, partner, board member
Logistikas Oy