Logistikas and Continental start co-operation in Jyväskylä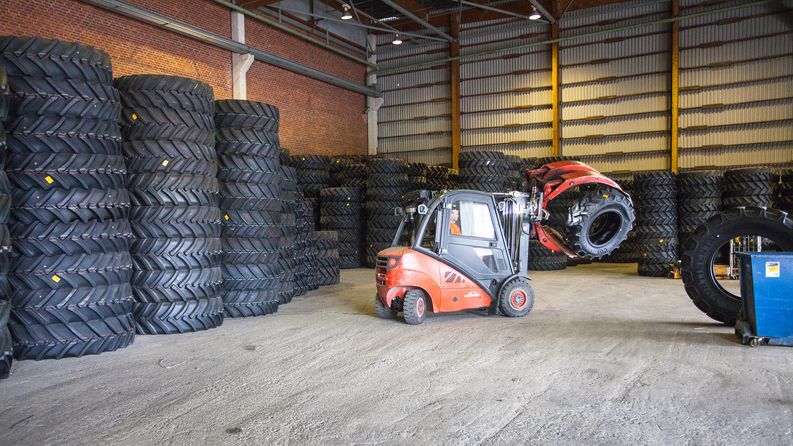 Logistikas Ltd and premium agricultural tire manufacturer Continental have signed a logistics agreement which includes warehousing services and the storing of tires in the area of Jyväskylä, Finland. The consignment stock for tires needed for agricultural machinery will be established to the logistics center of Logistikas in August 2019. Logistikas Ltd´s CEO Toni Brigatti says:
– We warmly welcome Continental as our new customer and appreciate their trust in our company. As always, we promise our full reliability and look forward to working with them.
Managing, storing and delivering the large tires in the order required by the customer is a logistically demanding operation, but Logistikas Ltd has undertaken similar tasks for the past 10 years with various clients. Logistikas Ltd will also carry out the installation of the wheel rims of the tires in Jyväskylä as an added value service.
About Continental
Continental develops pioneering technologies and services for sustainable and connected mobility of people and their goods. Founded in 1871, the technology company offers safe, efficient, intelligent, and affordable solutions for vehicles, machines, traffic and transportation. In 2018, Continental generated sales of €44.4 billion and currently employs more than 244,000 people in 60 countries and markets.
The Tire division has 24 production and development locations worldwide. As one of the leading tire manufacturers with around 56,000 employees, the division posted sales of €11.4 billion in 2018. Continental ranks among the technology leaders in tire production and offers a broad product range for passenger cars, commercial vehicles and two-wheelers. Through continuous investment in R&D, Continental makes a major contribution to safe, cost-effective and ecologically efficient mobility. The Tire division's portfolio includes services for the tire trade and for fleet applications, as well as digital management systems for commercial vehicle tires.