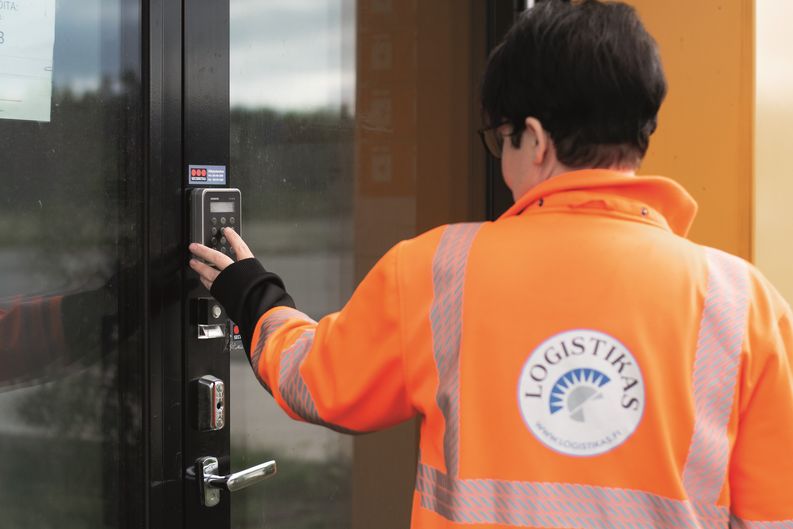 Business security is a big entity that has many different aspects. It contains a great deal of prevention, investment and quality partners.
Security is always strongly linked to confidential customer service. It's important that we make sure things and information stay with the people who belong to them, says Toni Brigatti, CEO of Logistikas Oy.
– Customers' products are carefully handled and treated as if they were their own. The goods handlers are professionals in the industry and work with the care that it requires. In addition to our own employees, corporate security is also taken care of by external actors in various areas, such as security and security. Today's partners are very carefully chosen, Brigatti continues.
Changing demands will be met
Security requirements from customers vary and are at different levels. For some, camera surveillance may suffice, as some require a private, isolated space for their goods, which, in addition to camera surveillance, has its own entrance and is accessible only to certain individuals. We also carry out a brief security review for all our employees.
– If the customer's security needs are not directly provided, they will be invested. Currently, most sites already have camera surveillance and most areas are fenced. In addition to these, the areas have alarm systems and varying degrees of security depending on the location, Toni Brigatti describes.
– As far as fire safety is concerned, that too is half okay. Everywhere you will find, for example, an automatic fire extinguishing system and smoke extraction.
Also the ones and zeros are protected
In addition to securing goods, it is also important to secure digital material.
– In time our servers were located in our own premises without lightning protection, but these times are far behind. Now there is no longer any threat of a thunderstorm either, as the company's servers are currently located in an external operator in Finland. Devices, systems, and applications are protected by a five-level security level that provides protection against denial-of-service attacks and malicious websites. The firewall contained in the security forms the gap between the networks for information security and enables the management of network traffic. The protection on all devices also allows you to quickly shut down and empty your employee's phone if it is lost.
In addition, the devices are protected by passwords created under a strict password policy. Employees have an electronic identity that allows each user to have access to relevant equipment, systems, and applications as defined by task and level.
– All agents are covered by a confidentiality agreement to prevent information being passed on orally. Like other security-related activities, this has been a good model for employees, says Brigatti, CEO.