Planning ahead is a key factor
Juha Hauta-Heikkilä works as the unit manager of Lakari and Hakunintie in Rauma for Logistikas Ltd. A substantial amount of products moves through these warehouses both for industrial and singular customers.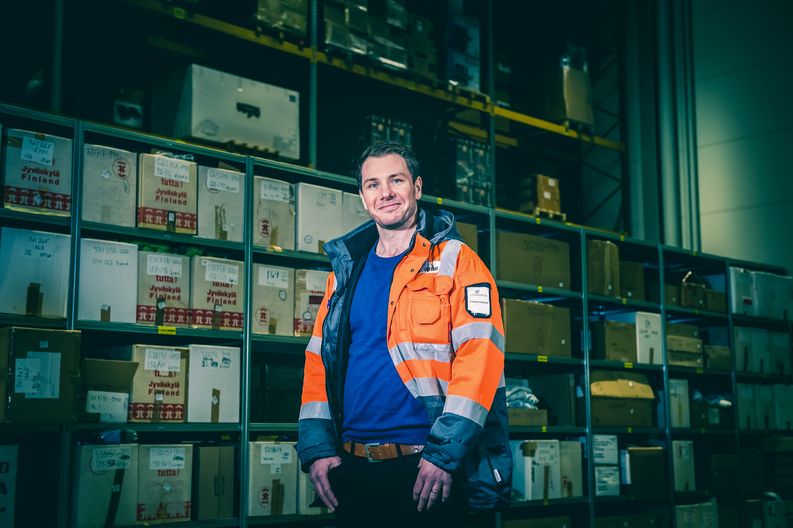 The exact place of the customer's products is decided even before they arrive at the warehouse of Logistikas Ltd.
– Planning beforehand is actually one of the most important parts of the job description for many at Logistikas Ltd, myself included, Hauta-Heikkilä outlines.
Just a checkmark on the computer screen is not enough, because the product selection of the customers is broad and the physical size of the products themselves varies significantly.
– In this warehouse, you can find everything from children's clothes to tractor parts and couches. The software might say the product will take the space of a single unit when in reality it might take four or weigh thousands of kilos.
Everything does not always go according to plan, and the destination and arrival time of the products might change at short notice.
– When you have surprising sets of circumstances, it is important to not have someone else to take care of the problem but to rather face it as a crucial challenge. Overcoming these challenges is a part of what we do daily, Hauta-Heikkilä explains.
An organized front to face new obstacles
Four automatic warehouse machines will be installed to Lakari in May. (Read also: Automatic warehouse machines bring about efficiency and improved ergonomics)
The machinery will be delivered by SSI Schaefer Finland. Planning ahead is also applicable in this case, and Hauta-Heikkilä underlines the major part Valtteri Virtanen has played in it.
– Valtteri is our expert in this automatization project and has put a large amount of work into it. He has a big role in the planning process before the machinery is installed, but will also be involved in the first introduction of them in action and in making sure the employees are familiarized with the new aspect of their job. After the automatic machines are put into action, a constant process of improvement will begin, in which he will also be participating.
The automatic machines will initiate an opportunity for the creation of an entirely new service concept.
– Something quite like this specific machinery that works for the benefit of various different customers cannot be found anywhere else in our domestic sphere of Finland. That means Logistikas is a step ahead in its thinking, Hauta-Heikkilä confirms.