Reima provides quality clothes for children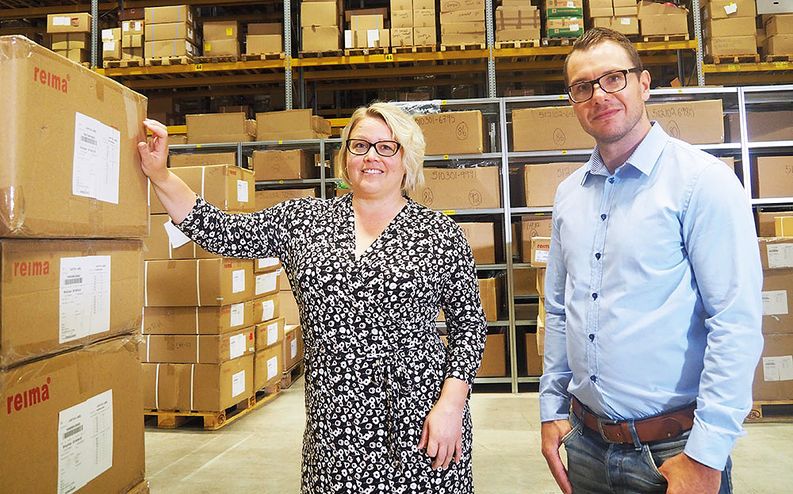 The logistics center of Lakari in Rauma is extremely busy on a Monday morning in August. The shelves are stacked with brown boxes with Reima's red logo, and identical boxes are being packed into a truck.
– When products arrive at the warehouse, they are often times sent to their next destination the following day, the logistics manager of Reima, Katariina Kaisla, explains.
– The entirety of our logistics chain is an interaction of many of our partner companies and an enormous amount of variables. In this chain, a tiny delay of a part affects the whole. Therefore, the precision and reliability of the logistics partner are crucial, and Logistikas offers all of that to Reima.
Partnership and shared goals
The partnership of the two companies began in 2010 when Logistikas Ltd took over the storage operations of Reima in Kankaanpää. Simultaneously, people and expertise were also exchanged. During 2018 the operations moved from Kankaanpää to Rauma.
– The competence of the employees, dedication and mutual understanding of the companies are the basis of a successful partnership. Logistikas Ltd helps Reima to function more efficiently by taking care of our logistics with precision and expertise.
– Our partnership could be described as open. Together, we look for areas of improvement both on a structural level and in action. These things are constantly discussed and everyone is committed to finding new, more efficient ways of operating.
 
The location and port of Rauma are advantages
90 % of Reima's maritime transport comes through the port of Rauma. Because of this, the location of the logistics center of Lakari is ideal.
– The necessary functions, such as customs clearance, can be managed much faster in the port of Rauma than in other ports of Finland. The operations are much more flexible for us, Katariina Kaisla praises.
– The overall schedule is extremely strict, and we cannot afford mistakes in the logistics chain. As a company, it is important for us to deliver our customers the right products at the right time. We can completely trust the expertise of Logistikas Ltd to fulfill our expectations. I recently heard we only had eight returns from the customers regarding the products sent out in June, July and August. That is a minuscule number when you consider our massive production volumes, Katariina Kaisla describes.
Did you know?
Kankaanpää is historically an important location for Reima. Only in this specific location, Reima has employed 800 people at best.
– As I was emptying the space, I found the pair of golden scissors used by president Kekkonen on the opening day in 1971, Katariina Kaisla says.
Reima as numbers
Established: 1944, Kankaanpää
Original location: Vantaa
CEO: Elina Björklund
Net revenue: 73.9M € (2017)
Number of employees: 138 (2017)
Source: Wikipedia