The new Board of Directors of Logistikas Ltd took office on March 1, 2020
Logistikas Ltd's Board of Directors has gained two new members, experienced logistics experts Tapio Orne and Seppo Virta. Eino-Pekka Vuorento will continue as a Member of the Board, Ari Salmi as Chairman of the Board and Jyrki Lehti as Deputy Member. Teemu Luovila started as Apetit Plc's CFO at the beginning of the year and is therefore no longer on the Board of Directors.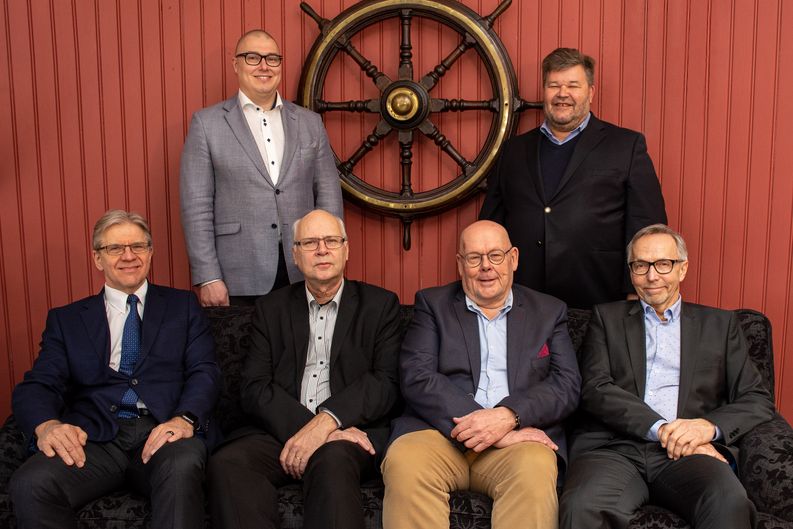 Since 2004, Logistikas Oy has elected members to its Board of Directors from outside of the company. Ari Salmi, Chairman and principal owner of Logistikas Ltd, believes that this decision has accelerated the company's development to where it is today. A member of the Board of Directors is elected for a term of three years to enable him to be fully involved and to develop the company on a long-term basis.
- A growing company is a bit like a growing person who needs different support at different stages of his life. The "education" of a company is guided by a carefully selected Board whose members' diverse backgrounds and experiences provide a safe and professional foundation for the company to operate, says Ari Salmi.
Tapio Orne has extensive experience in logistics
Tapio Orne is a skilled logistics professional with 37 years of experience in logistics, sales, marketing and management. He has worked for numerous logistics companies such as Kiitolinja, Posti, VR and DB Schenker both in Finland and internationally. From 2013 to 2017, he was also CEO of Euroports Finland Oy.
Ari Salmi has known Tapio Orne for decades. There is a common history dating back to the 1980s, when they both worked for the same employer. Salmi sees Orne as an experienced logistics professional who knows the market and customers and has a huge network.
Orne's experience with Logistikas Ltd goes back many years. It was nice to join a familiar company.
- When Ari asked me to be a member of the board of Logistikas Ltd, I was happy to take on the offer. Over the decades, our roads have cut several times, and through our companies, we have sometimes worked together, sometimes solved logistics problems from different angles. Through this, I have known many of the company's employees for a longer period of time, says Orne.
Orne sees Logistikas Ltd as an agile and well-run company. The first impression he has of the company after the start of his Board work is youthful, positive and professional. With his own expertise, background and experience he expects to be able to support the growing company reach its goals.
Seppo Virta is a procurement professional
Seppo Virta has 40 years of experience in various roles and areas of procurement around the world. To the board of Logistikas Ltd he brings expertise especially with regard to the development and conception of procurement.
- Virta has a solid track record of purchasing and projects around the world. Among other things he has been responsible for procurement on major gas and oil projects all the way in Siberia. When Rauma Marine Constructions was established, Virta created the best procurement practices for the company in just over a year, says Ari Salmi.
When working for Technip Offshore Finland Oy Virta operated as Mikko Jaskari's foreman. Jaskari started as Chief Operating Officer of Logistikas Hankinta Ltd (procurement and purchase services) on January 1st, 2020. Salmi finds it remarkable that in his new operations Jaskari will get sparring inside the company from someone he already knows and trusts.
- I see Logistikas as a forward-looking and interesting company. When the right direction is found for the activity, the next challenge is to keep that good direction" says Seppo Virta.

"Skilled, well-considered board members paint a good picture of the company"
Logistikas Ltd and Logistikas Hankinta Ltd have experienced growth over the last few years and the combined turnover of the companies exceeded 20 million euros last year. Ari Salmi sees the company's current turnover as an enabler of many things.
- A turnover of 20 million euros is a sign that we are able to handle larger customer relationships. I feel that one of our important tasks is to be able to offer large industrial companies a partnership in a functioning logistics chain without the need for the organization to acquire its own in-house logistics expertise, says Salmi.
Salmi believes that when considering a partnership, we look at how a company is structured operationally and what kind of a Board of Directors it has. He feels that a good Board says a lot about the company. He still expects good viewpoints from the new Board of Directors to take the company forward and develop it. The atmosphere in the Board of Directors has remained conversational, and the Board is also active in the company's operations.