Extensive logistics expertise through university cooperation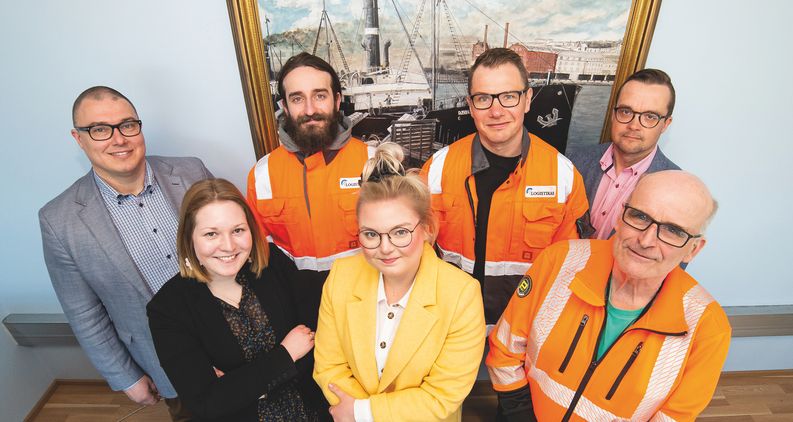 Versatile training provides an important basis for professional skills that are further developed through practical practice. Many of Logistikas Ltd's professionals have received their studies in Satakunta University of Applied Sciences's (SAMK) various degree programs.
- We offer companies in the Rauma region extensive engineering and business expertise. We graduate experts for companies operating in international markets. We are focused specifically on exports from the upstream end of the supply chain, i.e. sourcing and internal logistics, all the way down, i.e. customer service and marketing, says Daniela Tanhua, a lecturer in International Business.
Hundreds of experts in various fields graduate from SAMK every year. Rauma has a wide field of business activities that require highly trained professionals. Important practical lessons are made possible in close cooperation with companies in the area.
- Various business projects are closely integrated into the studies. Already in the study phase, we implement various projects for the needs of companies, for example in logistics, production economics, marketing and financial administration.
SAMK's academy activities, launched a few years ago, enable students to complete some of their studies on these projects.
- Together with the companies in the area, we map out for which functions certain areas of expertise are best suited. The projects ensure that practical skills are strongly involved in students' degrees. Logistikas Ltd is one good example of a long-term cooperation.
Both young and adult students complete their studies at SAMK. The logistics sector is one of the most important pillars of a functioning society.
- Supply chains are often complex and are spread widely around the world. Versatile logistics management is a very important issue in the daily lives of companies, so it is very widely involved in our studies, Tanhua emphasizes.
Graduates of SAMK share their experiences
- I worked in the metal industry for almost 20 years and became an employee of Logistikas with the outsourcing of the warehouse. Logistics was already familiar, but through my studies I gained more extensive knowledge of the field to support practical learning.

Lasse Heino, Storeman, Logistics Engineer (2017)
 - Through the training, I increased my knowledge in matters related to forwarding, customs and legislation, for example, which have also played an important role in practical work. There is a lot to learn by doing.

Juha Hauta-Heikkilä, Head of Business Unit in Rauma, Logistics Engineer (2007)
- Through the projects I did during my studies, I learned a good deal about, for example, teamwork and stress tolerance, as well as about perceiving and managing several things at the same time. The constant opportunity to develop and learn new things motivates you.

Malviina Metsänvirta, Expert in Financial Management and Procurement, BBA in Sales and Marketing (2017)
- I was completely immersed in the world of logistics while working at Logistikas during my studies. I will supplement my expertise with new studies. The study project work with the right companies provided a lot of important lessons.

Elviira Tuomi, Logistics Assistent, BBA (2020)
- I worked in warehousing in the field of logistics for several years and after the army I went to study logistics. From the university, I learned good additional lessons about team and project work, as well as broader information about the whole field.

Tino Heikku, Shift Manager, Logistics Engineer (2020) 
- I invested in purchasing and logistics studies. I had worked summers in various logistics operations and also worked in the field alongside my studies. In this work, one can broadly define what and how the job is done.

Mikko Jaskari, Chief Operating Officer, Logistikas hankinta Ltd, Logistics Engineer (1999)
- The studies offered a wide range of lessons that were easy to deepen. Especially though my thesis work did  I learn to research and to solve things. Identifying customer needs and finding the right solutions for them is our daily routine.

Toni Brigatti, CEO, Industrial Management Engineer (2002)