Warehouse automation is not an ordinary thing in a multi-customer environment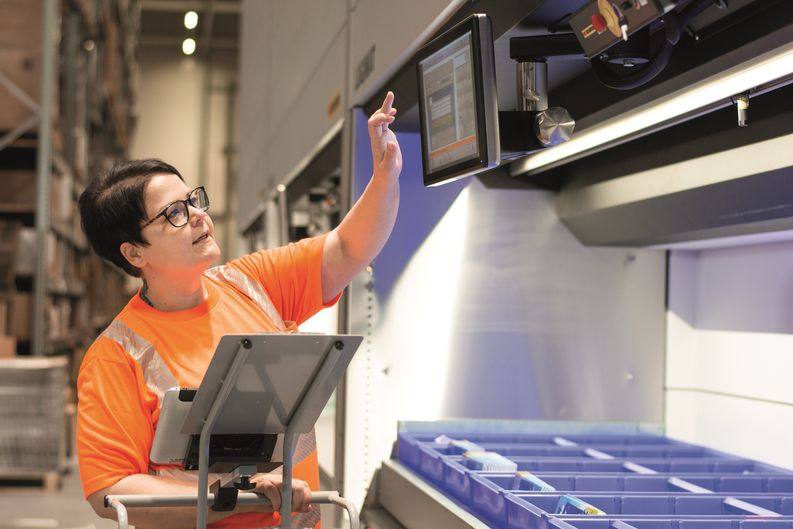 The warehouse automation system installed at Logistikas' Lakari logistics center in Rauma is a rarity in Finland. In multi-customer environments, we have come to rely on traditional pallet racking.
In the 1/2019 issue of Logistikas Sanomat, Juha Hauta-Heikkilä, Head of Unit at Logistikas, reported on the progress of the installation of new warehouse machines ordered at the Lakari Logistics Center in Rauma. At that time, the beginning of May 2019 took place and since then, the installations have been completed and the warehouse automation systems have been put into use. At the time of writing, in August 2019, information system integrations are still incomplete, but the warehouse automation system itself has been installed, tested, and fully operational.
Logistikas Oy's Lakari warehouse automation project started already in autumn 2018 with thorough mapping and surveying. The purpose of this background work was to convince the right kind of warehouse automation solution and its supplier. Eventually, SSI SCHÄFER Finland was selected as the supplier. During the winter and spring, we have worked with both information system suppliers and customers to get the most out of our vending machines right from the start.
Logistikas is a pioneer in warehouse automation in multi-customer environments
Jari Kaiho of SSI SCHÄFER Finland describes Logistikas Oy's solution for warehouse automation as open-minded and insightful. Although various automated machines have been in storage for a couple of decades, such equipment has not been installed in Finland in a multi-customer environment.
– For some reason, multi-customer warehouses have relied on traditional pallet racking and have been reluctant to invest in much more expensive warehouse machines, although this could result in a significant increase in medium and long term productivity. In that sense, Logistikas has been a forerunner and has a good vision that they have the courage to go ahead with their activities, says Jari Kaiho.
Efficiency and better work ergonomics
Logistikas Oy is preparing for the growth of e-commerce logistics, for example, by investing in high-performance warehouse automates. Material picking is handled very quickly from the warehouse vending machines and the picking holes are ergonomically just right. In addition to efficiency, this also benefits when the physical workload of the job decreases.
– Storage machines have been proven to be 7 to 10 times faster for picking than regular pallet racks, so there is one clear place for almost automatic performance, says Jari Kaiho of SSI SCHÄFER Finland.
– In addition, the machines installed in Logistikas Oy's Lakari logistics center are models that can be filled from the back at the same time as picking up from the other side. In many situations this will speed up the workflow.