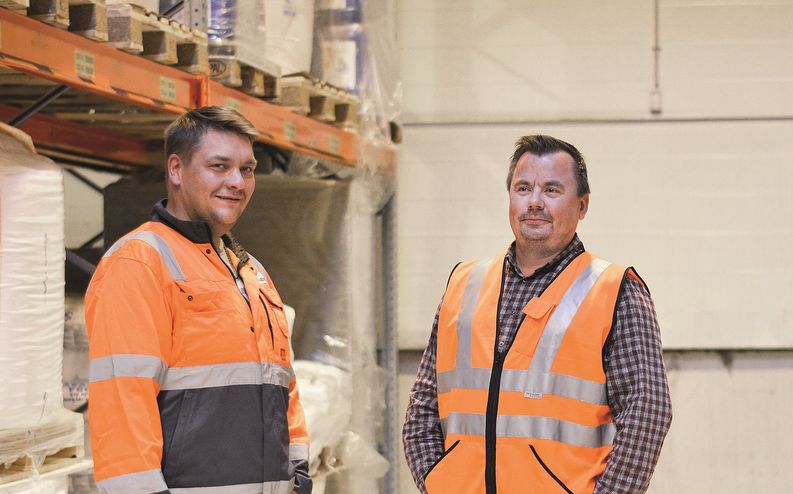 It is important for Logistikas Oy that every employee is as well as mentally and physically as possible. Human Resources Manager Olli-Pekka Reunanen and Supervisor Jouni Sillman emphasize the importance of guidance in occupational safety.
Even statistics show that Logistis Oy has not had any occupational accidents leading to sick leave for almost two years. In addition to accidents, a record is kept of incidents and safety findings.
– We try to deal with near misses as quickly as possible. When something happens, let's see what can be done better to prevent an incident happening in the future, "says Reunanen.
– Of course, errors due to people's own causes, such as hurry or fatigue, go unreported. Reports received at Logistikas Oy are handled by a regular OSH committee.
Work instructions in an important part
The most prominent part of occupational safety is the safety equipment required for work, which includes everything from safety shoes to protective suits. However, the most important part of occupational safety is the actions of the workers themselves. As a result, no one is pushed into the cold water when they come to work, but everyone is given guidance on the job.
– Work instructions are paramount. We strive to tell everyone as accurately as possible how to perform that job and the security risks involved, "Sillman explains.
In addition to guidance, clear signage and restricted areas are also contributing to safety.
– It says a meter in a warehouse is as dangerous as 100 kilometers on the road. When working in the middle of a forklift, all instructions must be very clear, otherwise damage will occur, Sillman emphasizes.
Holistic well-being
In addition to safety, it is important that employees are also mentally well off. Well-being is monitored through a biennial staff survey. Questions include the quality of managerial work, the atmosphere in the work community and competence.
– There are many other things that affect well-being at work. The 6S system supports cleanliness, which is one of the environmental influences. We also make fleet changes to find the best tool for each job, says Sillman. Outside the walls of the workplace, you will find functional workplace health that can be served quickly.
– Of course, well-being is also associated with everyone's free time. We support the hobbies of our employees and, from time to time, endeavor to distribute tickets to various events, "Reunanen concludes.